Bernhard Rothfos Intercafé AG
is a leader in the coffee supply business in Switzerland
We strive to provide first class services to the coffee industry, at origin as well as for consuming countries.
We support our sister companies with our service offerings, but those are also available to the industry.
Excellency of service is granted by our experienced, knowledgeable, highly efficient and motivated trade, traffic and finance teams.
We are a dedicated team
striving for the best service quality
Our Team
Meet the people behind Bernhard Rothfos Intercafé
Our functional teams and our management are multicultural, multilingual, and put, thanks to long industry experience, profound knowledge of the coffee trade in all its facets at your disposal.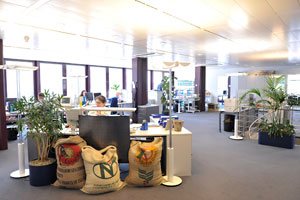 Bernhard Rothfos Intercafé AG
was founded over 20 years ago
Bernhard Rothfos Intercafé AG handles trade finance and logistics for most of the NKG exporting companies around the world.
Our activities, centered around trade finance and the logistics for bringing green coffee beans from origin to the warehouse or roasting plant of the import countries, cover the full range of services coffee trading and merchandising requires.
We coordinate information, documentation, and the flows of money and goods among the different members of the coffee supply chain.
We are in constant communication with our exporters about local markets and our customers benefit from this flow of information.

BRIC is certified by the major sustainability labels such as Fairtrade International, UTZ / Rainforest Alliance, Bio Suisse, 4C, and is therefore authorized to market certified coffees of the respective labels.

We share our office space with a number of group companies and exchange specific coffee know-how with them.
We supply green coffee beans – specialty, gourmet, mainstream, certified –
meeting all major international standards & certifications